Many people realize that the older they get, the harder it is to have the magical feeling of being in a fairy tale they always had when they were children at Christmas.
But in Crfat Sides, we are sure that if you make a Christmas decoration for your home or Christmas tree, the Christmas spirit will surely come. Almost all of these decorations do not require much free time or additional materials. You can do them in 30 minutes using the materials you have at home.
Christmas Decorations Ideas For Home
#1. Stars Made of Wool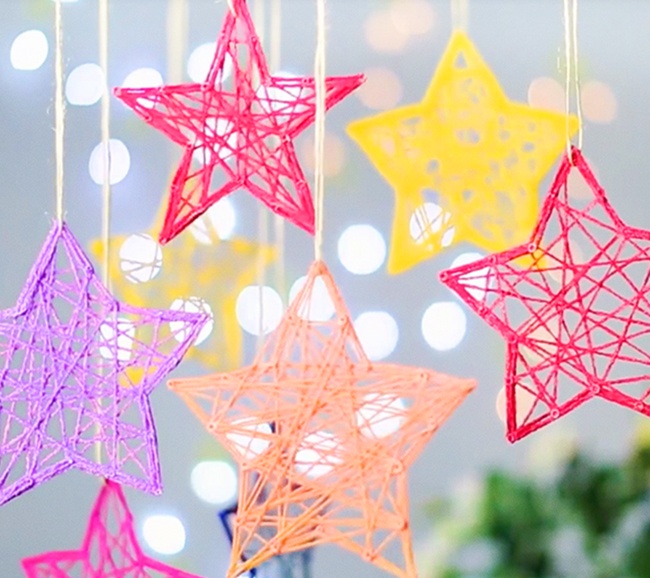 You can place elegant snowflakes made of wool on a Christmas tree, a chandelier, and a window. Or you can decorate the walls with them. It is very easy to do them! Just watch this video.
You will have to weave wool of any color and thickness, glue, some nails, and a cutting board.
#2. Wreath made of baubles and an old hanger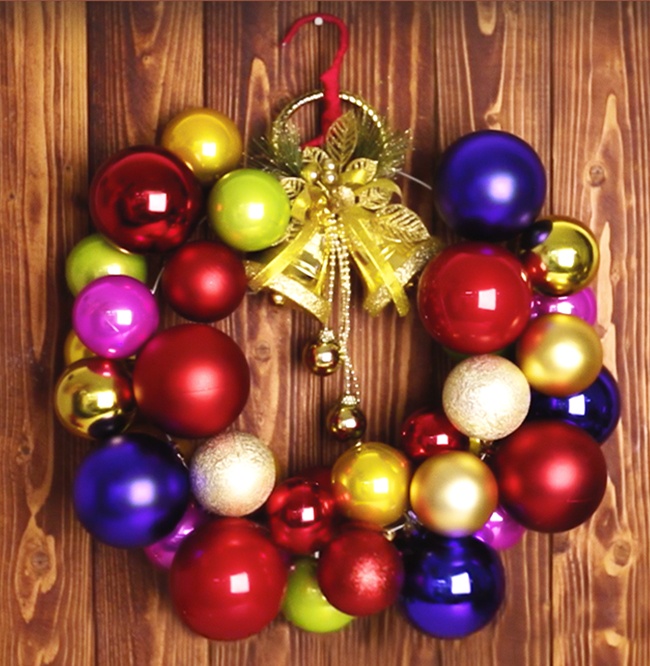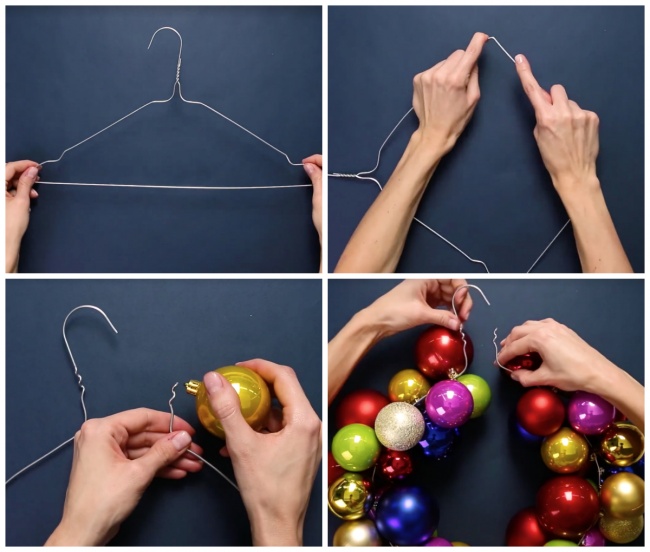 You can make a colorful crown in just half an hour. All you need is a set of cheap ornaments. The creator of Blogger Jennifer, the author of this article, recommends deploying an old hanger. If you don't have one, all you need is a piece of strong cable.
You will need a pair of ornaments (20-25 ornaments of different colors and sizes), a coat rack or wire, decorated branches, and a ribbon or any other crown decoration.
#3. Snowflake Tablecloth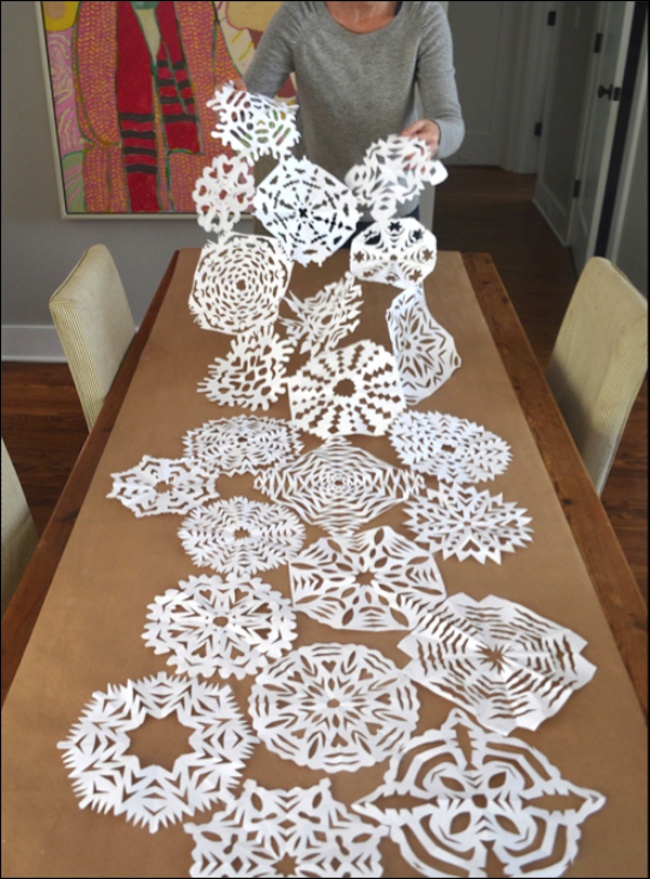 Many people used to make snowflakes when they were children, and you can make a beautiful tablecloth. Your whole family can do this by cutting snowflakes together or you can do it yourself and glue the snowflakes to a table. It is a great idea if you will welcome guests at home or plan a family dinner.
#4. Multicolored Hats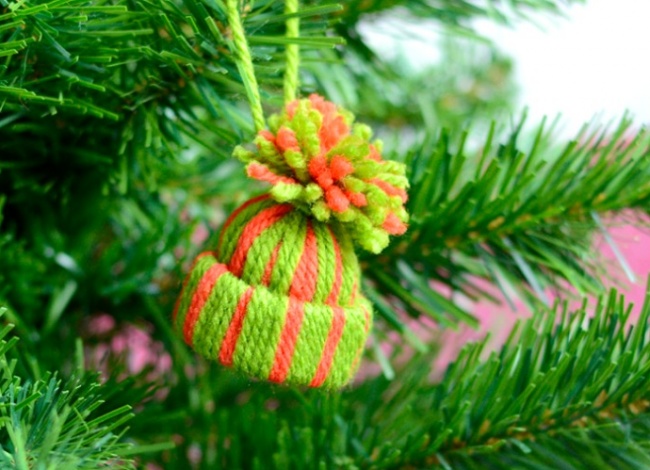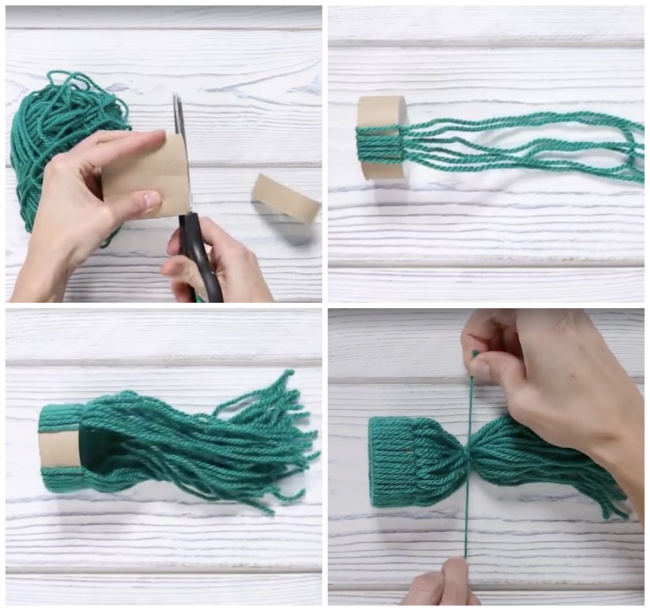 You can make these beautiful hats with traces of yarn, and the hats themselves can be a great decoration for the Christmas tree. You can also place them on walls, windows or in your chandelier. Children over 5 years old are perfectly capable of making this decoration simple. You can find the details here.
You will need a roll of toilet paper (you can also use cardboard), scissors, multicolored threads, and good humor.
#5. Lamp "City with snow"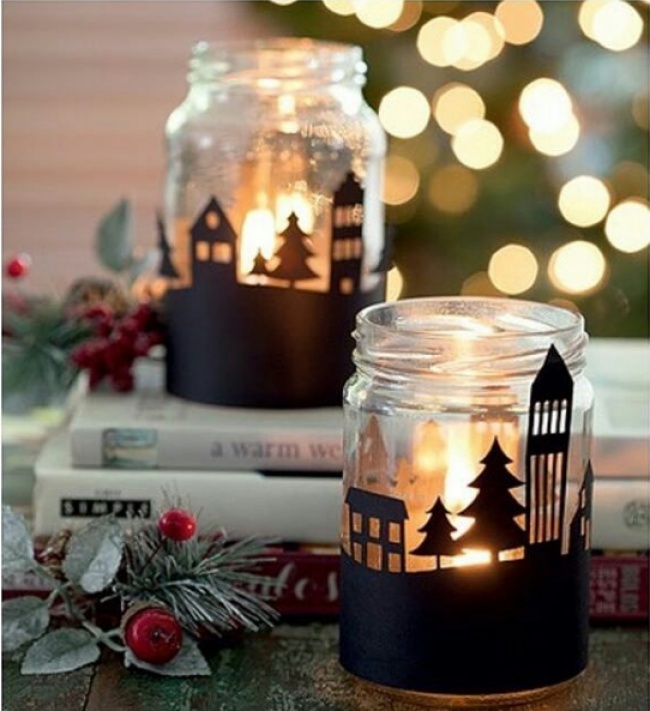 To make this lovely lamp, you must measure a piece of paper wrapped around the pot with a little more (so you can glue the ends). Then draw and cut out a simple view of the city or the forest. Wrap the paper around the jar and place a candle inside.
You will need a jar, thick paper of any color (even white is good) and a candle. You can also cover the bottle with a special "snow" spray, which is sold in all hobby shops.
#6. Ornaments with photos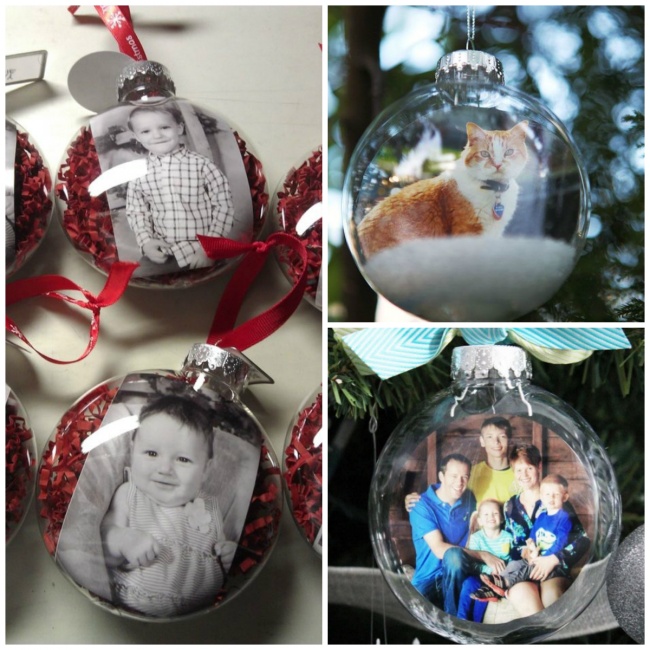 It is a great idea to decorate a Christmas tree or a gift for your friends and family. Roll up the photo to fit inside the ornament and smooth with tweezers. You can use small rectangular black and white photos or crop a circular photo like the one the cat has in the snow.
You will need plastic or glass ornaments, photographs and other things to fill the ornaments (ornaments, lights, salt that looks like snow).
#7. Christmas Lamps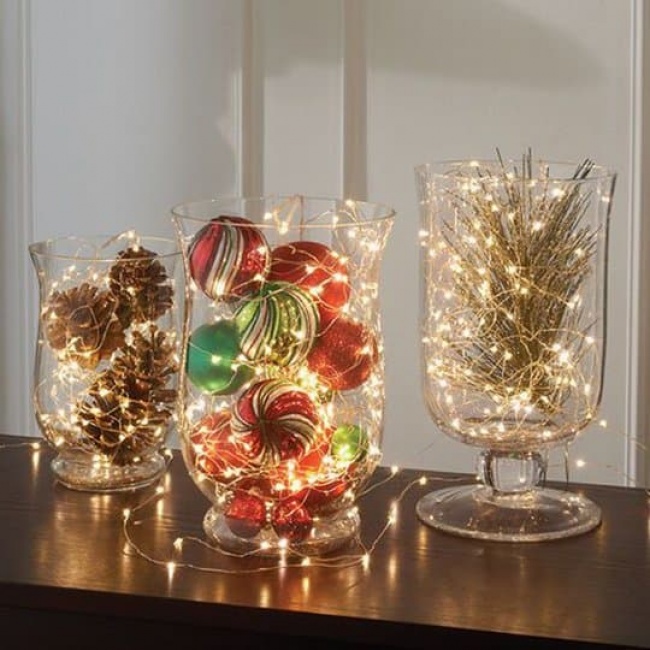 This miracle only takes 5 minutes. All you have to do is collect ornaments, twigs, and cones and place them in a transparent vase (or a pretty pot). You can also add lights to make it really beautiful.
#8. Smoldering embers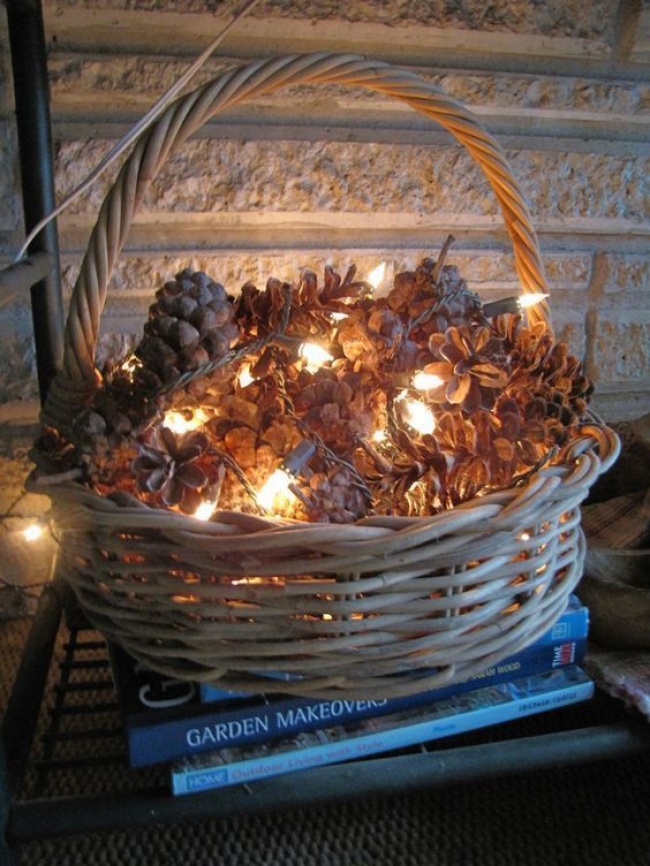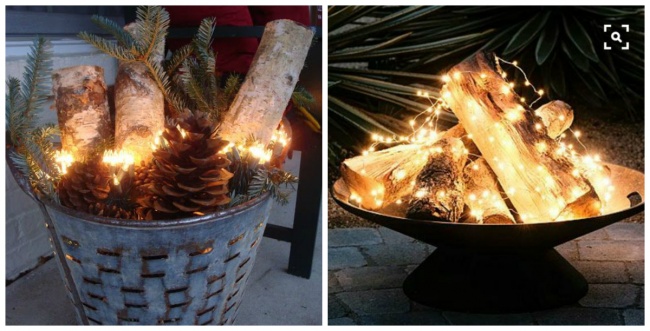 The bright lights hidden between cones and branches give the impression of burning embers in the fireplace. It even seems to emit heat! You just need a basket or a nice bucket, and the rest (except the lights, of course) can be found in a park.
#9. Floating Candles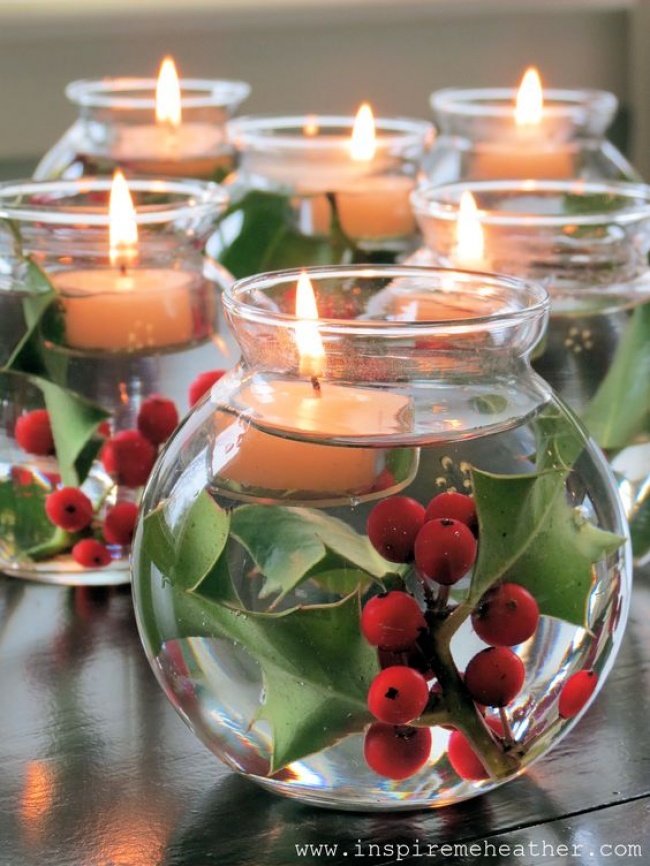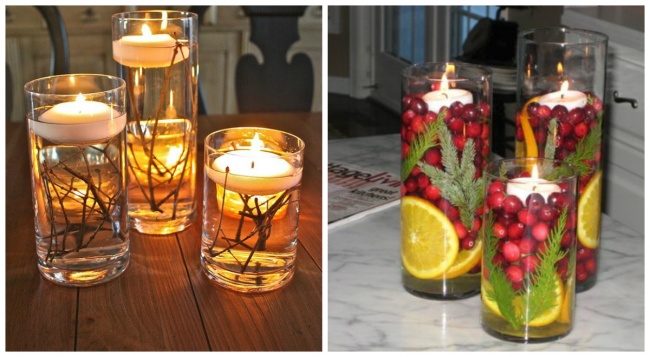 It is a very simple decoration for a Christmas table or a good night with friends during the holidays. Some candles floating in a bowl with water, blueberries, and twigs. You can use cones, oranges, fresh flowers and leaves from a flower boutique; Take almost everything you can think of. Use bowls, vases, jugs and cups as candlesticks. Most importantly, they must be transparent.
#10. A snowman in the Fridge or at the Door.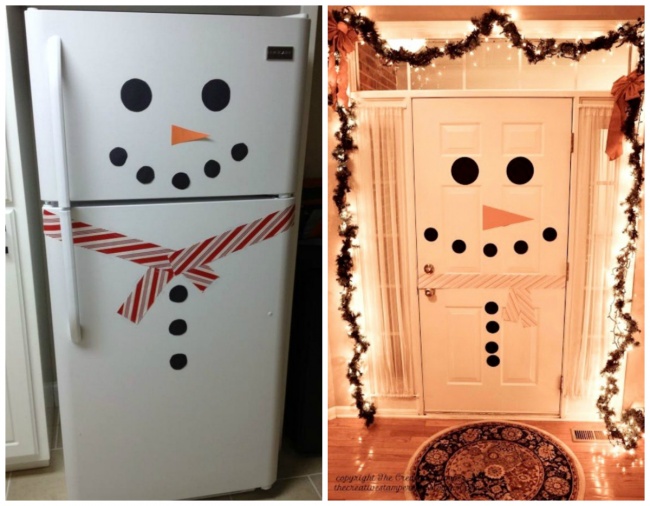 Children will definitely love it: it's simple, fun and very fast. A 3-year-old can cut the larger parts. You need to cut circles, nose and scarf. Use wrapping paper, colored cardboard and masking tape to attach the pieces to the door.
#11. Snowflakes on the Window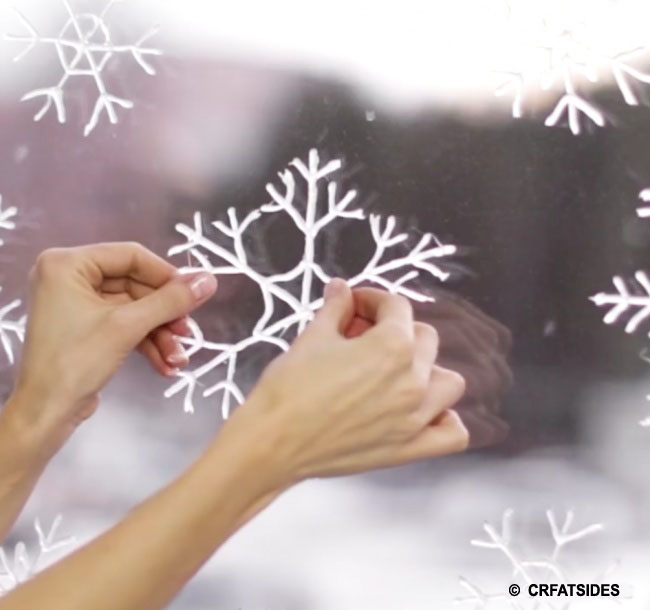 This is a very interesting way to use a glue gun. To glue the snowflakes on the cup, simply push them carefully toward the surface. Find the details in this video.
You will need a snowflake model, baking sheets, glue gun, and a little patience.
#12. Candy Christmas tree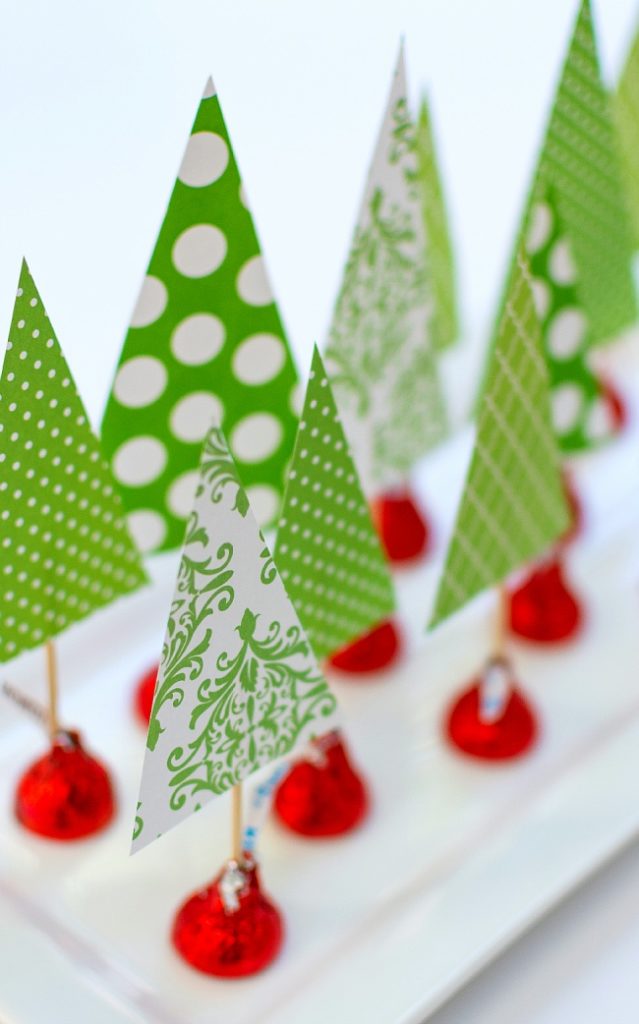 You can make these colorful Christmas trees with your children. They are perfect for a children's party or a family dinner. Cut out triangles of colored paper or cardboard, use masking tape to attach them to a toothpick and paste them on candy.
You will need Hershey's kisses or any other triangle-shaped truffle candy, toothpick, masking tape, and colored paper or stamped cardboard.
#13. Christmas Lights with Photos and pictures.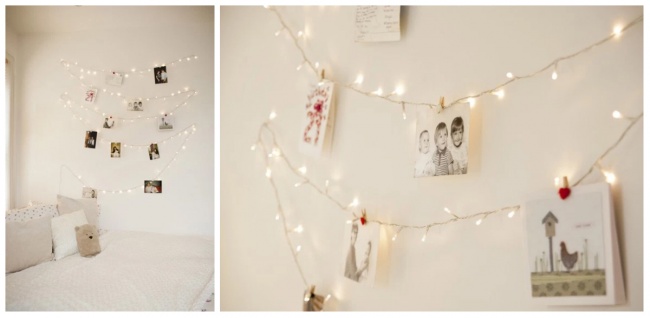 New Year and Christmas are wonderful family vacations. The lights with family photos, photographs, and children's drawings are great for this occasion. It is very easy to join them with clothespins, which can be decorated with hearts and snowflakes.
#14. Origami Star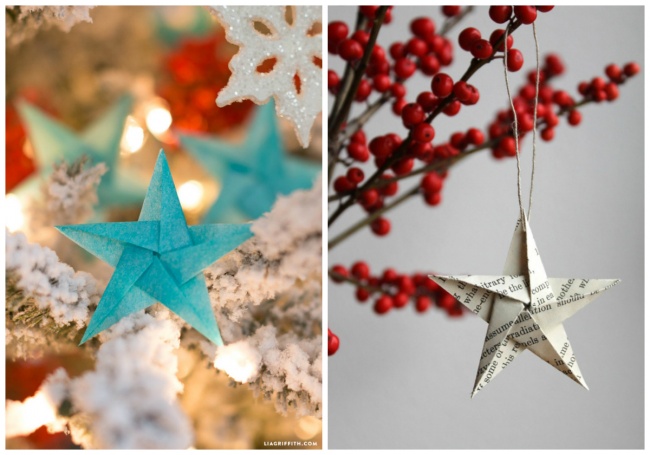 The fluffy origami stars can decorate a Christmas tree, a table or be used to make Christmas lights. You can find detailed instructions here.
#15. Painted spoons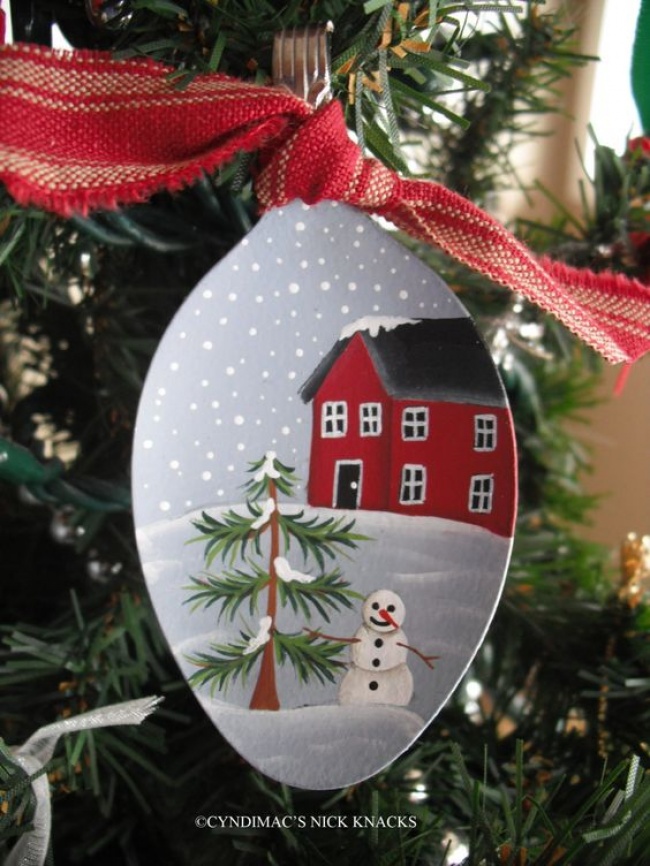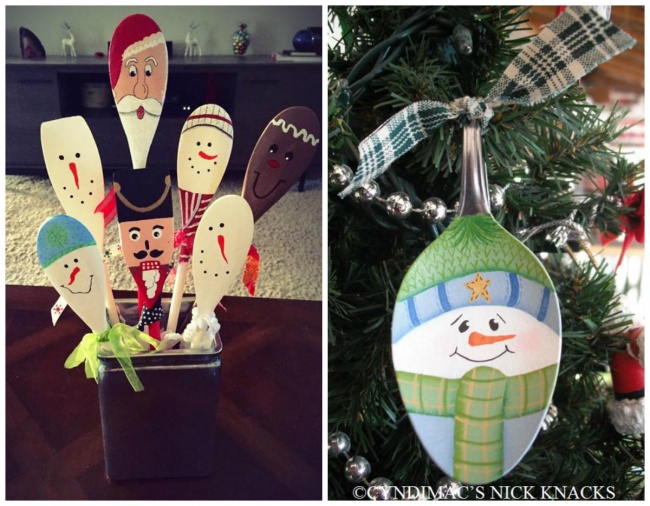 Ordinary metal or wood spoons can easily become beautiful Christmas decorations. All you need is acrylic paint. Children will love this idea! If you bend the handle of the metal spoons, you can hang them on your Christmas tree. Wooden spoons can decorate the kitchen.
#16. Snowman stocking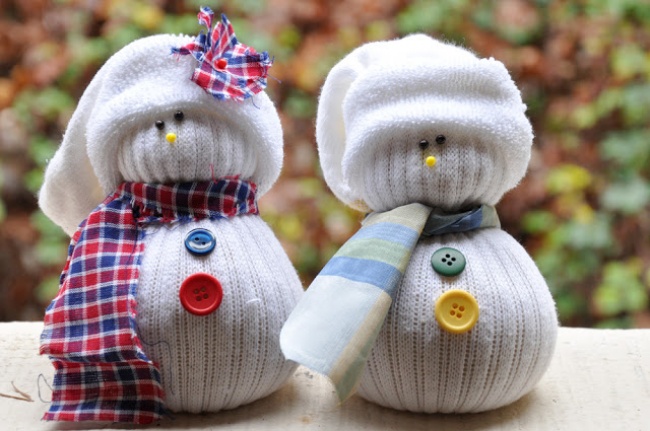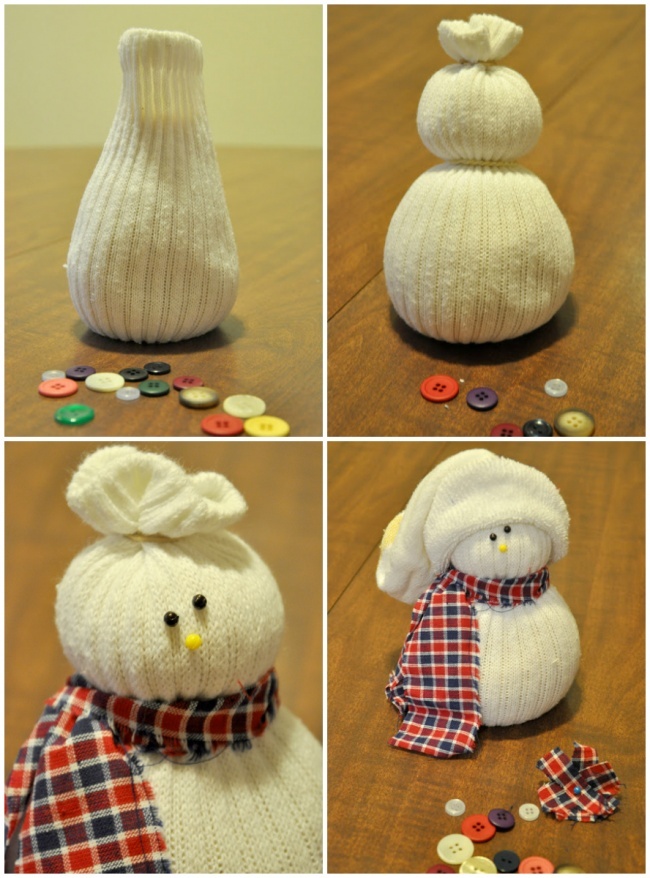 Wear white socks to make these funny dolls. Cut the end of the sock and string the other end. Put some rice so it has a round shape and wraps a thread around the rice ball. After that, put more rice on top to make another ball. Sew the nose and eyes, make a handkerchief and button up the buttons. The part you cut at the beginning can be used as a hat.
You will need rice, white sock, buds and some other pieces of cloth.
#17. Voluminous snowflakes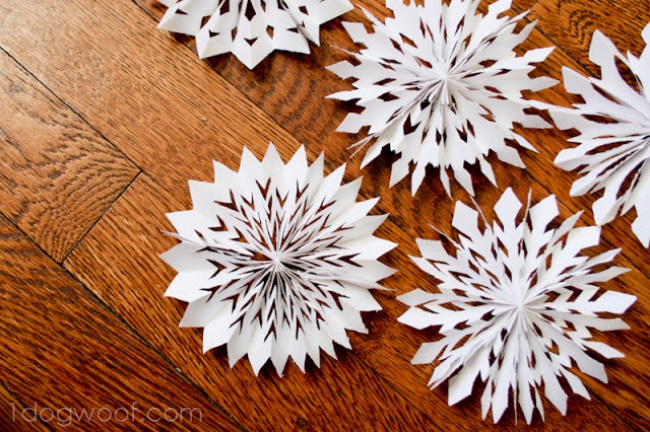 You can hang these beautiful bulky snowflakes or decorate a Christmas tree and windows with them. They are not much harder to make than ordinary snowflakes. Detailed instructions with photos can be found here.
You will need white paper, sharp scissors and a stapler.
#18. Ornaments of old lamps.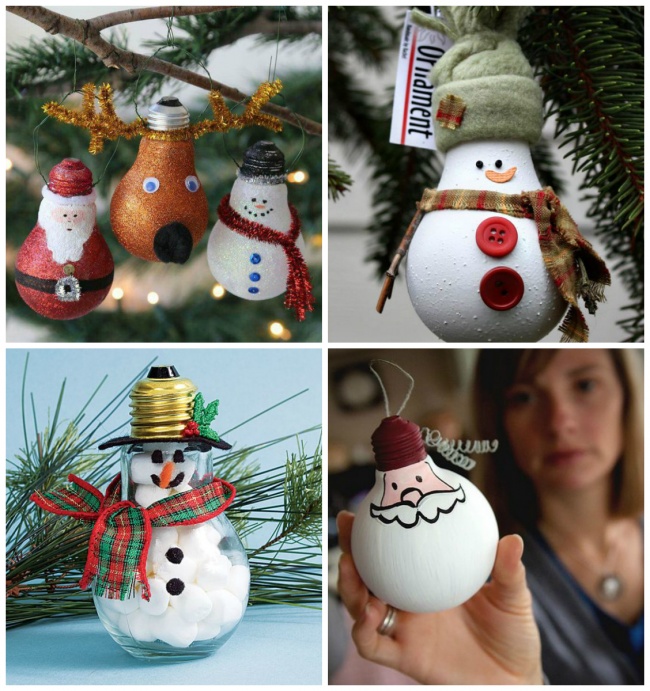 Stop throwing away used light bulbs! They make great pieces of decoration, and children will love this idea. You will have Santa, snowmen and handmade penguins on your Christmas tree. You do not need to use wool to make the hat as shown in the upper right corner. You can use pieces of cloth to make a beautiful hat.
You will need old lamps, acrylic paints (you can also use old enamels), simple glue and colored glue (for toys on the left) that are sold in specialty stores. You will also need buttons, ornaments, ribbons, beads and other small decorative items.
#19. Let's get a Christmas tree!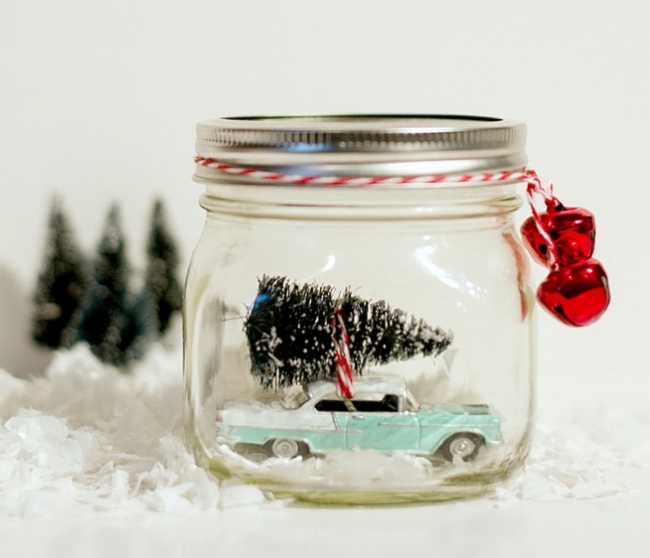 This is a nice bauble that will make your dresser, the window sill or the table beautiful. Blogger Linda, the author of this idea, used artificial snow, but you can easily use a white napkin. Just cut it into pieces beforehand.
You will need a toy car, a white napkin, a toy Christmas tree, a cute pot, and a red and white ribbon.
#20. Ornaments with memories, dreams, and others.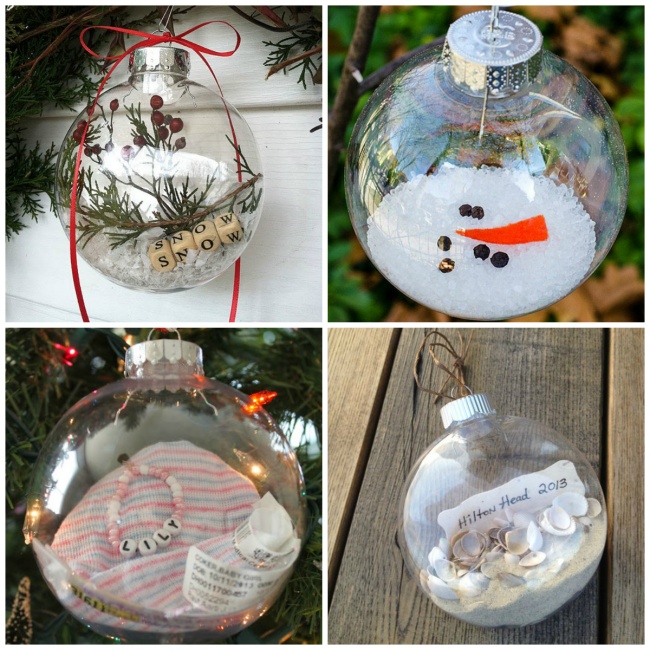 A set of Christmas decorations can become wonderful and meaningful decorations. For example, you can make toys that have the best memories of last year: a newborn baby or a great trip. Over time, there will be a tradition in the family, and you will have good memories right after looking at these ornaments. You can also make wishes using them: for example, if you want to go overboard, make a shell ornament and make your wish.
What results did you get? Do not forget to share the photos of the decorations you made in the comments!
Recommended Articles
Preview photo credit CyndiMacsNickKnacks, AdMe.ru