Dating apps may seem like hard work, but around 42% of the people who use them have been in a serious relationship with someone they met there. About 82% were also ghosted by at least one person and 44% were also ghosted by someone.
These percentages show that the in-app dating pool can be both successful and disappointing. Learning a few good ways to start a conversation can tip the scales in the winning direction.
Try to be funny.

Humor is the best way to break the ice between you and a complete stranger and you will surely get a response. However, your jokes or funny comments must be clever. Here are some lines you can use:
Do you like bad girls? Because I'm really bad at this dating app thing.
You didn't need to put a dog in your photo to make me swipe right.
What's the worst opening line you've ever heard? Please tell me it's not this one.
Give a smart compliment.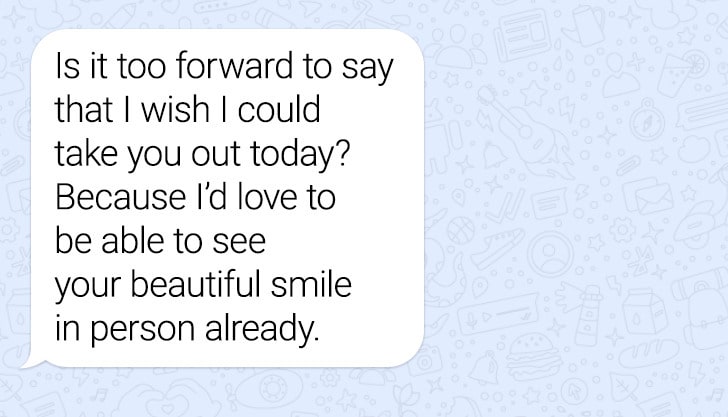 Many people are afraid to give honest and genuine compliments, fearing that they will never get a response from their love interest.
That is why they resort to cheap or very basic compliments. It's okay to be vulnerable and show that you're not afraid to speak your mind.
Your smile is gorgeous. I bet the rest of you is too.
You're so hot it's hard to even spell helo.
My battery is running low, but I'm using it to message you. That's how attractive you are.
Be clever.

Being smart is not the same as being funny, although the two attributes can be combined. A clever comment means that you come up with a sentence that will get the other person to respond faster than they can swipe left.
I want to be the reason you delete this app.
My biggest turnoffs are cheaters, liars, and people who clap when the plane lands.
I have no idea what pickup line to use on someone who must get as many matches as you d
Ask a question.

Yeah, how are you?" is a question, but not one that will give you an answer. You can think of a silly or relatable question and get the ball rolling.
If you could only have one condiment forever, what would it be?
Pineapple on a pizza: yes or no?
Why did you swipe right? Because of my pics or my sparkling personality?
Study your photos and find something to talk about in them.
When you match someone on a dating app, the only information you have about them is their photos and interests. So lean on them and try to find something that intrigues them and provokes a response.
Your pet is the cutest. Tell me about them.
I love your tattoos! How many do you have?
By the way, that first smiling pic knocked my socks off. You seem fun to be around!
Be confident and show honesty.
The dating pool can often be crowded, and the people you match with may have several messages a day. A great way to stand out and make a good impression is to be confident and say exactly how you feel. That way, you will know if the other person is also a good match for you.
This app says we're 93% compatible. I'd like to test that out in real life.
I'm new to this dating scene, and to be honest, it kind of scares me.
Can an awkward Tinder conversation end in true love? We're about to find out.
Are you or have you ever been on a dating app, and if yes, what has been the smartest or funniest conversation opener anyone ever sent you? How did things progress between the 2 of you?